Clubs
Welcome to The Needle Works monthly needlepoint clubs! When you join our clubs, you receive a series of canvases specially curated to follow a theme along with threads and stitch guides. Clubs are either monthly or bi-monthly, and you will receive all necessary items in the mail. Registering for a club guarantees you'll always have a project to work on while learning new stitches and thread styles. You'll also enjoy discovering different artists throughout the year. Join now for a fun, easy stitching experience. 
Deposits cover your initial materials to get you started.
Each month (or bi-monthly) we will mail your next canvas kit automatically.
Have fun discovering a new piece, style, and design year round.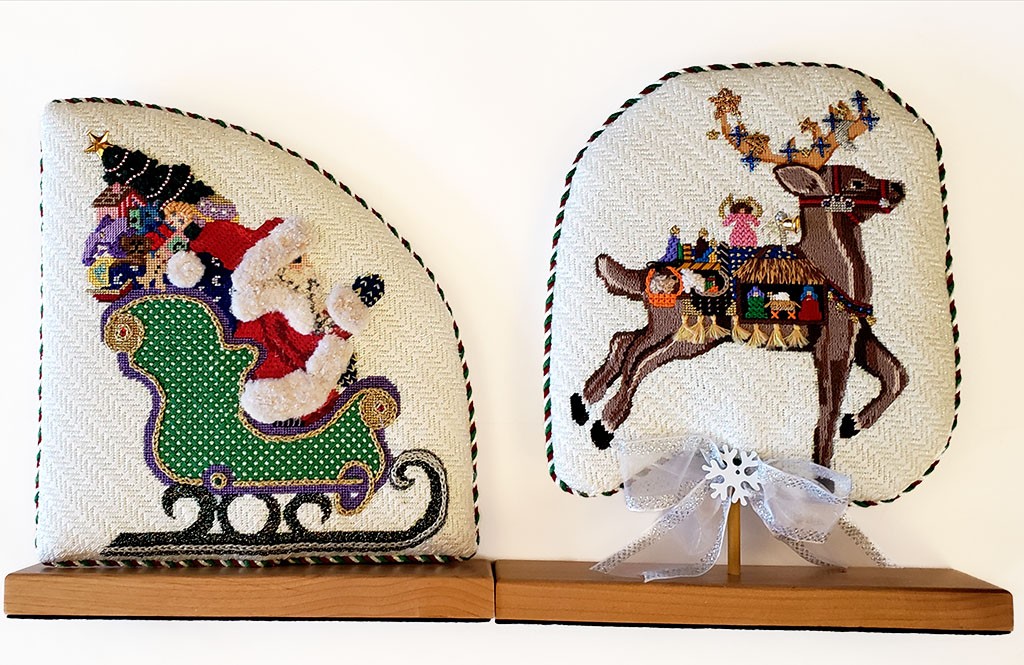 Reindeer Club
Make Santa's sleigh fly when you join our Reindeer Club. You'll receive four sleigh-riding reindeer with Santa canvases designed by Painted Pony.
Begins March 2020
8 months, 4 canvases arrive every other month
Deposit:  $260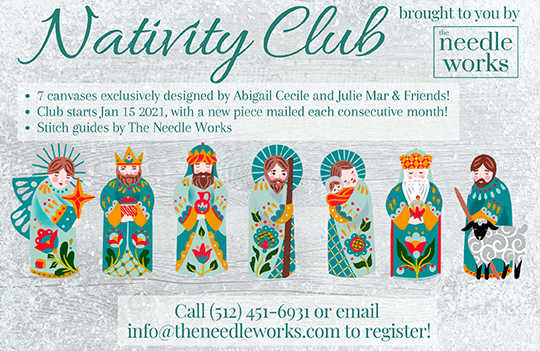 Nativity Club
Create a beautiful nativity scene with 7 canvases exclusively designed by Abigail Cecile and Julie Mar & Friends.
Begins January 2021
7 months, 7 canvases arrive monthly
Call for Deposit and Registration:  512-451-6931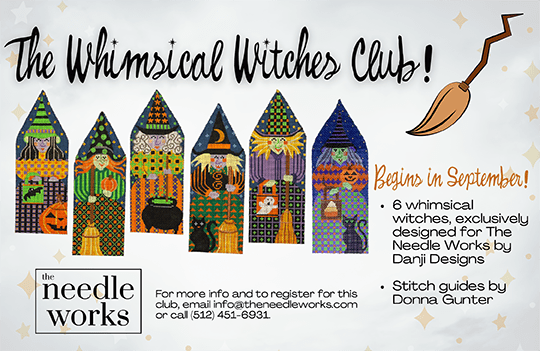 Whimsical Witches Club
Create 6 whimsical witches canvases exclusively designed for The Needle Works by Danji Designs and stitch guides by Donna Gunter.
Begins September 2021
6 months, 6 canvases arrive monthly in Sept/Oct/Nov/Jan/Feb/March
Call for Deposit and Registration:  512-451-6931
For More Info and to Register for Clubs:
Email

info@theneedleworks.com
A FEW NOTES:
Deposits are not refundable if you pull out early of the scheduled club.
Stitch guides and thread costs may or may not be available prior to club commencement dates.
A club series uses the same threads from piece to piece. So, thread costs should drop each month.