Clubs
Welcome to The Needle Works monthly needlepoint clubs! When you join our clubs, you receive a series of canvases specially curated to follow a theme along with threads and stitch guides. Clubs are either monthly or bi-monthly, and you will receive all necessary items in the mail. Registering for a club guarantees you'll always have a project to work on while learning new stitches and thread styles. You'll also enjoy discovering different artists throughout the year. Join now for a fun, easy stitching experience. 
Deposits cover your initial materials to get you started.
Each month (or bi-monthly) we will mail your next canvas kit automatically.
Have fun discovering a new piece, style, and design year round.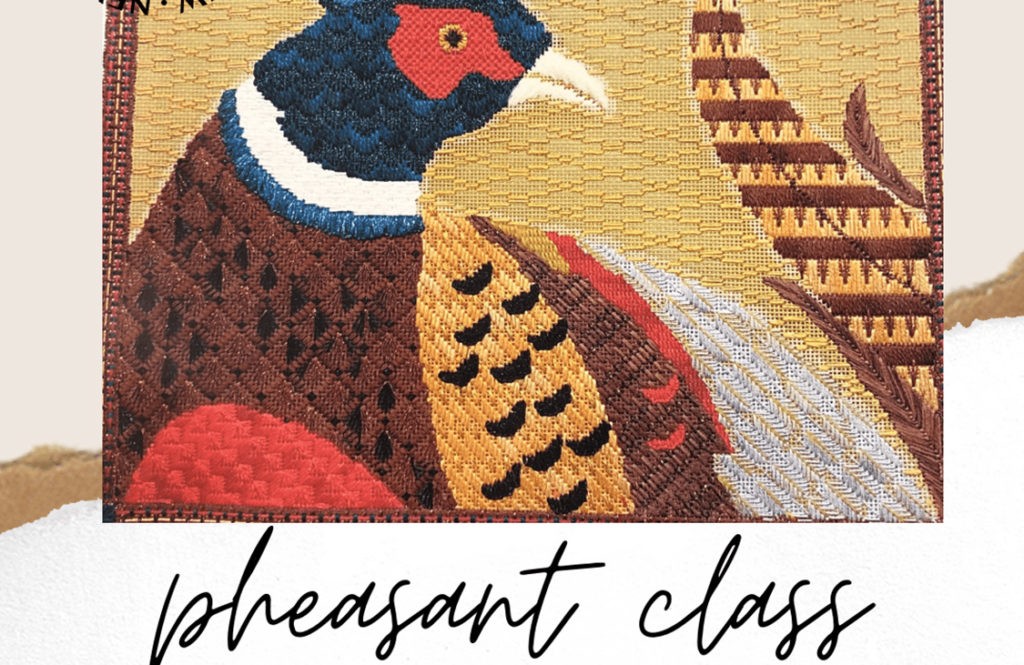 Patricia Sone
Patricia Sone will be leading a home-study Work Project for the Pheasant by 3K Designs. Lessons are divided over four months and will be sent in the mail.
Begins August 2020
4 months, 4 canvases arrive monthly
Deposit:  TBD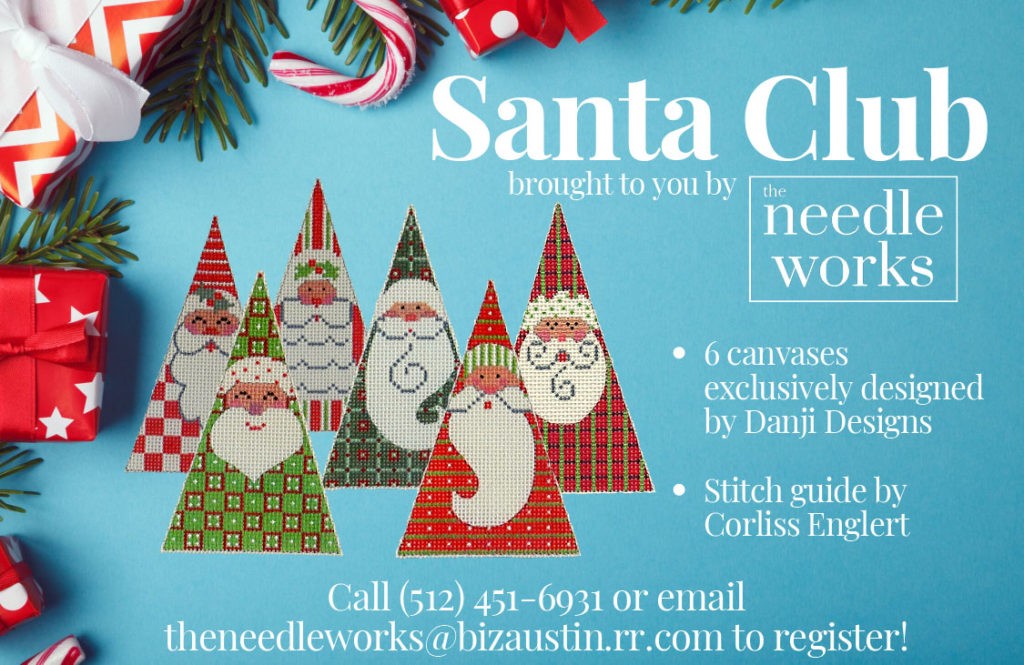 Santa Club
Continue the holiday celebrations and get a head start on your 2020 Christmas decorations by joining our Santa Club. You'll receive six holly, jolly canvases exclusively designed by Danji Designs with stitch guides by Corliss Englert.
Begins January 2020
6 months, 6 canvases arrive monthly
Deposit:  $150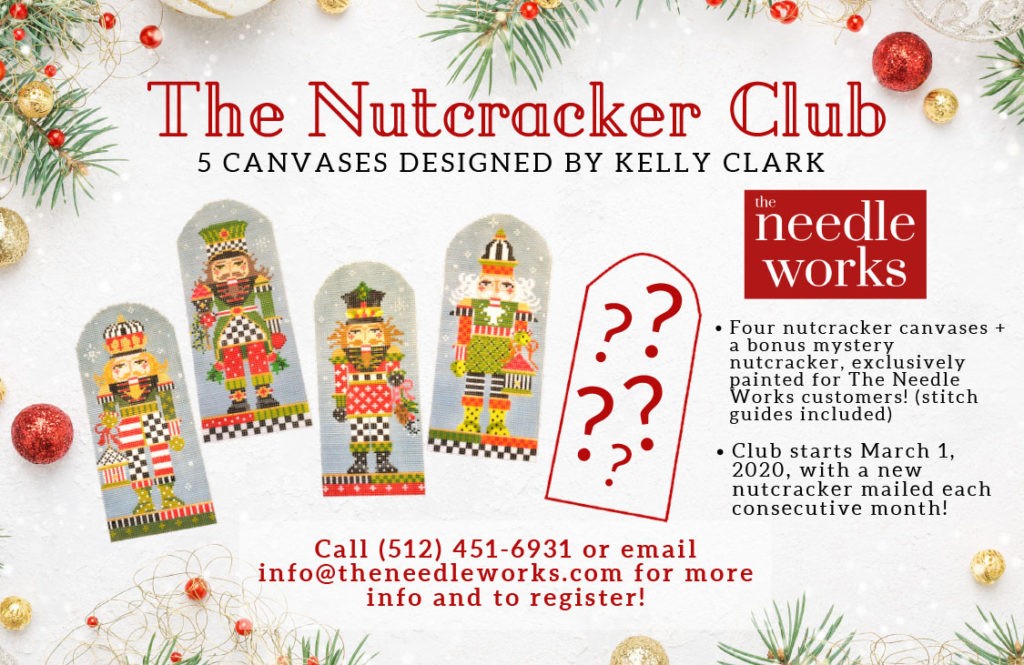 Nutcracker Club
Along with four nutcracker canvases by Kelly Clark, you'll receive a bonus, mystery nutcracker exclusively painted for The Needle Works when you join our Nutcracker Club.
Begins March 2020
5 months, 5 canvases arrive monthly
Deposit:  $150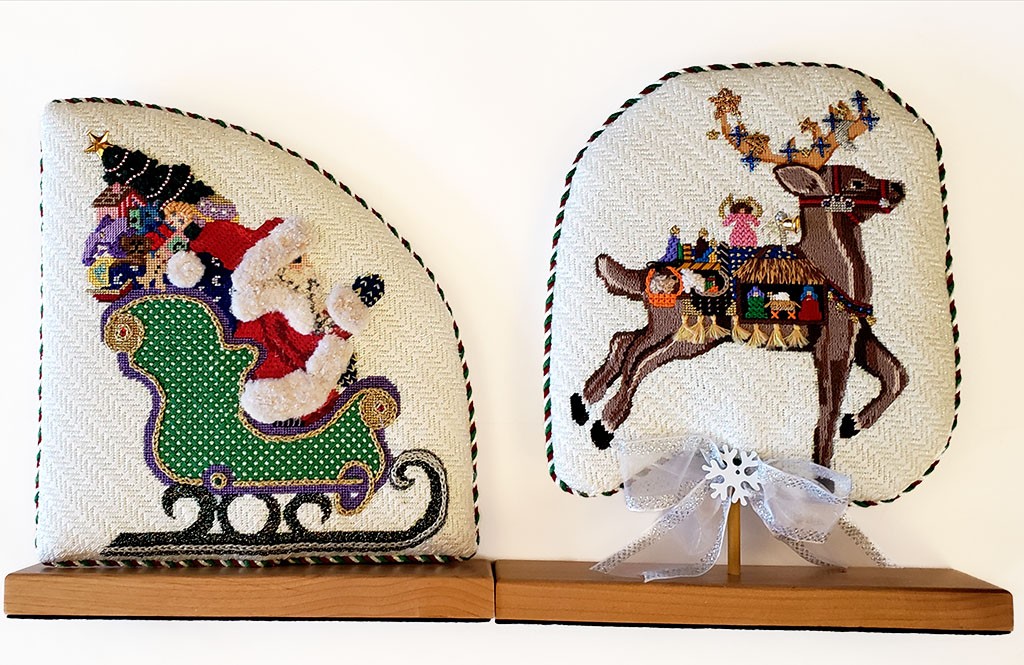 Reindeer Club
Make Santa's sleigh fly when you join our Reindeer Club. You'll receive four sleigh-riding reindeer with Santa canvases designed by Painted Pony.
Begins March 2020
8 months, 4 canvases arrive every other month
Deposit:  $260
For More Info and to Register for Clubs:
Email

info@theneedleworks.com
A FEW NOTES:
Deposits are not refundable if you pull out early of the scheduled club.
Stitch guides and thread costs may or may not be available prior to club commencement dates.
A club series uses the same threads from piece to piece. So, thread costs should drop each month.