June is here! Almost half of the year has flown by, can you believe it?!  We have two new trunk shows in the shop for June:
June 1st – BB Needlepoint Designs
and
June 10th – Danji Designs
Both are 20% off
Also, as a reminder, Jill Rigoli will be here June 13th teaching her bead class as seen in the May/June issue of Needlepoint Now magazine. We do have a couple of spots left so give us a call before it sells out!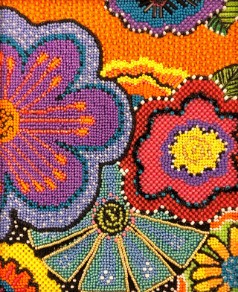 CHRISTMAS FINISHING DEADLINES UPDATE!!

Specialty finishing must be in the Needle Works by
Saturday, July 27th
Ornaments, Pillows and Stockings must be in by
Saturday, August 31st
Don't forget that Kelly Clark will be here August 10 and 11 teaching her beautiful Cornflower and Poppy pieces! August 10 will be the Cornflower piece and August 11 will be the Poppy piece. Call the shop for more details.

If you haven't signed up for our first club by Patricia Sone, you don't know what you are missing out on! A Company of Angels are so beautiful and Patricia's stitch guides are wonderful. Six angels, first one mails approx. July 15th.
OUR FIRST CLUB!
A Company of  Angels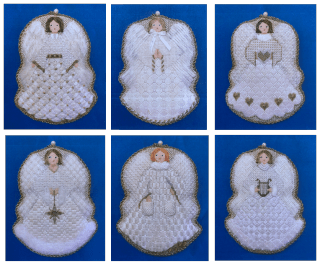 18 Mesh Needlepoint Design and Stitch Guides by Patricia Sone
$150 Deposit (credited back to you throughout the club kits)
6 Months Long | First club kit will ship out mid-July.
Please feel free to call the shop at 512-451-6931 or email us if you have any questions or you wish to sign up for any of our upcoming events!
We hope to see you soon!